Yesterday someone told me that a study had revealed that "men create businesses for profit and women create them for purpose"
I kind of get what they mean and the study was pretty thorough. So I don't want to argue it.
To me, this statement can be stripped back to 'do we find our motivation from the fear of scarcity or from purpose?
I also know, thinking about myself, that my drive comes from deep within and is emotional and driven by WHY. However, I also know the downfalls of being purpose driven. Needing to really learn the hard way that business requires a "business head" and any of my pain, set backs, challenges and disappointments in my business life are through my lack of business skills and acumen.
This is in the past  for me now, I am 20 years into being a Business Owner, but I won't forget the struggle, the frustrations and the desire for business to be kinder, for people to be 'like me' in their values and decision making. This is unrealistic. We cannot be that filtered or THAT emotional in business. We can be too easily hurt through this naivety. However, does this stop us from having our values and seeking a kinder world in business?
Does this affect many women, does it also affect men? Business is a HUGE skill, does if have to be learned the hard way? How do we all manage our values and emotional sanity while adapting to the realities of the business world at large.
Gail and I are driven to make business more enjoyable, for ourselves, our members and all our stakeholders. Reducing loneliness and increasing skills is our daily purpose. I think we can create a place that provides refuge and the values we want to see in others.
I guess we all have our purpose and often driven by our own learnings in life. Many find it hard to find their WHY, others find it hard to find their how, what is fundamental to us all is how to ensure we have the skill to remain in business and strengthen the business we love, learning these skills seems to be found the hard way, if I can do one thing while on this earth, it would be to help the startup and the tiny business to have these skills and ensure that their drive still comes from their WHY.
Thank you to our sponsors who are enabling us to deliver free digital skills
within The Business Cafe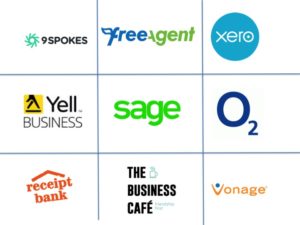 Please follow and like us: